For regular readers, you'll know that I'm a keen MOUNTAIN biker – and love getting out to explore some great trails, as well as a recent competition event.
My bike-of-choice for this is the GIANT ALIAS – which replaced my previous GIANT SEDONA (which I'd bought back in 1993 !)
The old MTB became my road'ish-bike – for commuting to work.   Some slick tyres on it, and a clean-up/service – and new brake pads – and it was ready to roll.
But – it's now slowly heading out to pasture – with the gear changer NOT engaging correctly – and, with the brake lever and gear changer in the same physical unit – it would mean replacing BOTH – and potentially a new rear cassette and derailleur.
So – time for a new bike.
As a MTB'er, I wasn't initially keen to 'change teams' – and get a proper road bike.  And, I like the position and stance on the bike – with the MTB style/layout.
I began looking at the "Commuter" style bikes – also termed "Flat Bar Road Bikes".  These bikes have some road-bike componentry, and MTB geometry and often disc brakes as well.
I looked at, and checked out the following :
After trying out a few of those bikes, and research/reading – I learnt a fair bit about the workings on these types of bikes.
The gears are usually MTB range – Shimano Deore, Alivio, etc.  As well, the upper spec bikes have road bike components – Shimano Sora, Tiagra, Ultegra, etc.
So – it seems that these bikes are neither MTB – nor ROAD – but a mix of either, without really hitting the mark for either.
Part of me thinks that these bikes are for 'people who are on the fence' – with regard to which bike to buy.
One bike shop I spoke to suggested that I try out a road bike – if only because they had a "road bike sale" – with some special prices and package deals over the Easter break.
So – I tried a GIANT DEFY – just around the car-park below the shop – and was amazed at how well it rolled, and how much I really liked the position on the bike.
The handlebars felt very natural – and I easily adjusted to the changed position and operation of the brakes & gears.
I then went back to the initial bike shop I'd visited – where I'd tried out the TREK FX flat-bar road bike.   I mentioned I'd tried a GIANT road bike – they have TREK and SPECIALIZED bikes – so I was interested to see what they suggested.
I spoke about the FOUR model names from SPECIALIZED – with two specific layout types – and then a carbon and aluminium frame style.
My preference was NOT for a competitive style road bike – Tarmac (carbon) and Allez (aluminium) – but more of a comfort oriented bike, as I'll just use it for riding to work, and maybe some weekend rides.
So – I tried out the Secteur – which is the aluminium version of the carbon Roubaix frame – aka. from the Paris-Roubaix bike race.
This bike was amazing !    I couldn't believe how quickly it rolled, and how smooth the gearing was – this has TIAGRA level gearing & changers – very nice.
Also, the brakes were dynamite – I had previously been thinking I'd go for a cross-bar road bike with DISC brakes, having never tried the road bike brakes – but these brakes were super good.
So – I had a big smile on my face – none of the other bikes made me go "WOW" like this one did – only trouble was that it was $400 more than I wanted to spend.
The next few days were some thinking & "sleeping on it" – and discussing with wife (aka. pleading) – and I now am the proud owner of a Specialized Secteur Elite.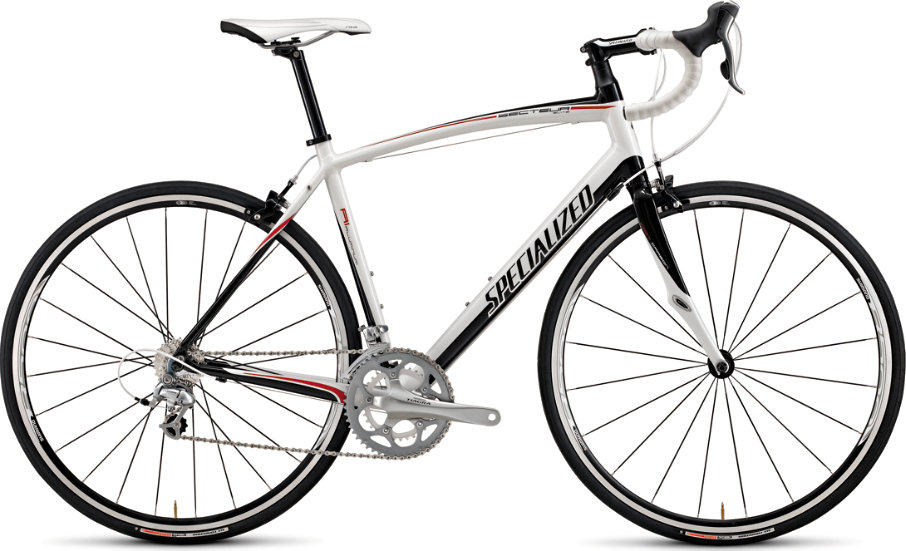 I've only done ONE ride-to-work so far – but it rolled along sooo nicely – even knocked 15 minutes off the normal commute time – and wasn't trying too hard.
Will be tougher getting out over winter – in the cold mornings – but I've also signed up for the Around The Bay In A Day ride – riding the 100km event from Sorrento to Melbourne.
So – the new bike is awesome – hope I get another 18 years of great service out of it – like I did with my previous bike.
Thanks to the guys at CYCLE SCIENCE in Mitcham – they were great – I think I've found my new LBS…!
** I don't know what to do with the old bike – don't want to scrap it – I might strip all the parts off, and polish up the frame – and hang it in the garage – LOL !